Italian breeds of donkeys
This site is a place of study and rigorous information that responds to the needs of those wishing to learn and understand. This section is devoted to Italian donkeys breeds. Mariapia Ciaghi dealt with translations.
At present, there are 5 donkey breeds in Italy (Amiata, Asinara, Martina Franca, Ragusano e Sardo); the FAO lists a sixth breed: the Romagnolo, of which a small number of pure examples exist. A few mixed-breed examples of the Pantelleria donkey can still be found in a handful of localities on the island of Sicily; another breed is the "Sicilian Grey". Click on the menu on the left of the page for information about the origins, characteristics and morphology of each individual breed.
---
Man has always used the Donkey (Equus asinus domesticus) as a draught and riding animal, but above all as a beast of burden. These tough, resistant animals have a gentle, patient and reserved nature, display affection if treated well, and are capable of recognising their owners at considerable distances. Once widely used in Italy, the number of examples bred in this country has fallen drastically since the 1950s as a result of the increasing use of machinery in agriculture, the depopulation of mountainous and upland rural areas, and the reduced demand for mules. However, interest has increased in recent years, due to the development of onotherapy (a practice that involves using donkeys as a therapeutic tool in order to assist in restoring feelings, sentiments and the pleasure of emotional communication), their use in leisure activities, and the rediscovery of donkey milk, an important, anallergic food source that is very similar to maternal milk and as such is ideal for children with food allergies.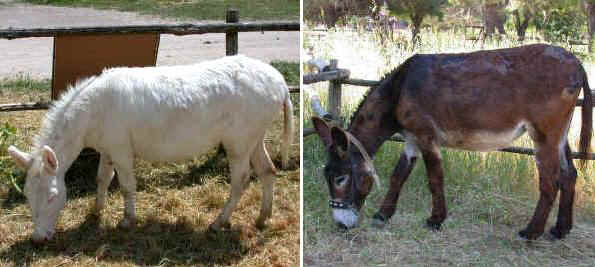 Information for Visitors
The information found on the www.agraria.org website has been assembled with great care. However, if you find any errors, please be so kind as to notify us. We do not accept responsibility for any problems arising from information that is incorrect or out of date. The website contains links to other sites and is not responsible for any violations of privacy occurring at the websites in question. www.agraria.org does not intend to violate any copyright on its pages. If, unknowingly, material has been published which is subject to copyright or in breach of any laws, please notify us. We shall immediately arrange for its removal.
For information and collaboration proposals, please write to: [email protected]