Mugellese

Italian breeds of chickens
Origin and main characteristics
The Mugellese takes origin in Mugello, Tuscany. It's a pure Bantam breed, common till 1950's, nowadays extinct. The Mugellese is a good brooding hen. The capons were used to raise the chicks immediately after the birth.
It's a very lively chicken, very active, even if mild.
Morphology
Bantam but solid chicken.
Lively eyes. Single comb, with 4-6 points, erect. Wattles of medium size; smooth and red face, red earlobes.
Neck of medium size, arched; broad at shoulders; horizontal long wings; wide erect breast; well developed abdomen.
The tail is kept at 45° in the cock, lower in the hen.
Quite short shanks and legs not so evident.
Mean weight:
- Cock 0.8 kg;
– Hen 0.7 kg.
Non-official Italian Standard of Mugellese
The following Breed Standard has not yet been approved by Federal CTF (kindly provided by Fabrizio Focardi).
I - GENERALITY
Origin: Mugello, Tuscany.
Ring: 14 mm cock, 11 mm hen.
II - TYPOLOGY AND AIM OF THE SELECTION
Original Bantam chicken, very common until the middle of XX centuries, then extinct.
Good broodiness. The capons were used to raise chick after birth. Very lively even if mild.
III - STANDARD- GERERAL ASPECT AND TRAITS OF THE BREED
1) SHAPE
Trunk: well shaped.
Head: round, of medium size.
Beak: medium length, slightly curved.
Eyes: lively, dark brown.
Comb: single, with 4-6 points. It follows the line of the nape without touching it. Erect, accepted if folded in the hen.
Wattles: medium size, round and quite smooth.
Face: red, smooth, without plumules.
Ear lobes: red, smooth, without folds.
Neck: medium length, curved, rich in neck hackles.
Shoulders: broad.
Back: medium length, curved backline (most of all in male).
Wings: quite long, horizontal.
Tail: 45° in the cock, rich in sickles, quite opened main tail feathers.
Brest: ample and well shaped.
Legs: not very long, short shanks.
Muscles: /
Pigmentation: /
Skin: thin and rosy.
Abdomen: well developed, most of all in layers.
2) SIZE
Bantam chicken, solid.
3) BONES
Medium vigour.
4) WEIGHT
- Cock: 0.800 kg
- Hen: 0.700 kg
5) PLUMAGE
Rich and tight to the body, quite soft but without cushions.
6) COLOURS: Black Red
Beak: horn-coloured
Eyes: from orange to red.
Shanks: rosy, horn-coloured toe nails.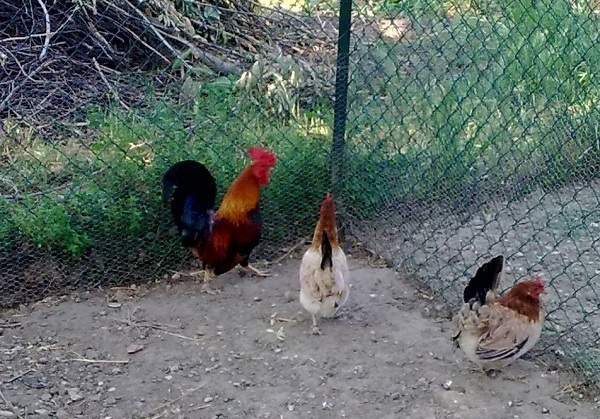 Mugellese cock and hens