Bianca di Saluzzo

Italian breeds of chickens
Origin and main characteristics
The breeds traditionally reared in Piedmont were two: the Bionda Piemontese and the Bianca di Saluzzo (or Bianca di Cavour).
Those two breeds currently count a few hundreds animals, bred by a few local agricoltural high schools that took the initiative to revive and preserve the original type since 1999. Fertilized eggs, chicks, pullets and breeders can be bought from Institute of Verzuolo (address: via IV Novembre, 30 - 12039 Verzuolo - CN; phone n. +39 017586226).
Pullets start laying from 6-7th month. Eggs have white shell and the mean weight is 50 g. The egg laying is higher in spring and summer with a mean production of 180 units. The rate of hatching is high.
The quality of the meat, depending on the rearing techniques and feeding, is high.
The typical productions are the pullet (males and females from 22nd week) and Christmas capons (from 30th week). Hens at the end of production are also valuable.
This breed is very rustic, with an high capability to use pasture: it's excellent to give value to typical products from Piedmont.
Morphology
The plumage is white.
Medium size.
The single comb is big and with 4-6 points, erect in the male and folded in the hen, the wattles are big and red, the earlobes are yellowish-white as well as the shanks and the skin.
The tail is erect, slightly opened in the female. The chicks have yellow down.
Mean weight:
- Cock: kg 2.5 – 2.7
- Hen: kg 2.0 – 2.1
When pullets are slaughtered (22 weeks) the weight reaches 1.7-1.8 kg. Capons (30 weeks) weighs 3 kg.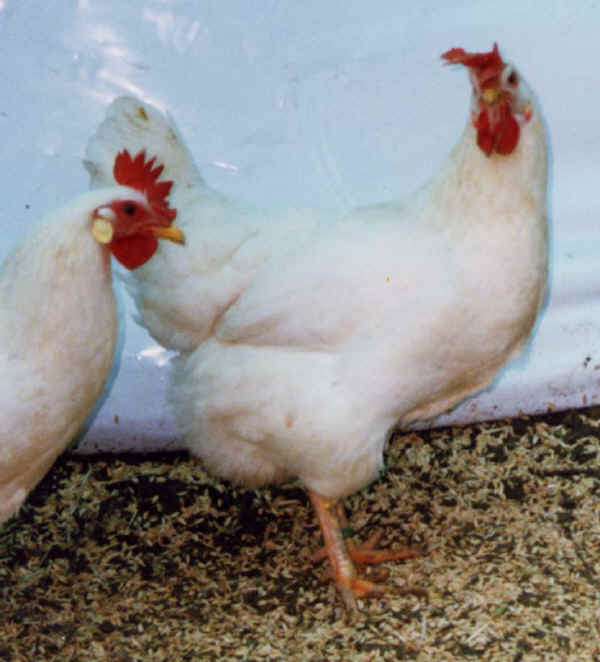 Bianca di Saluzzo hen (foto A. Zanon)